Vibration Exercises have the potential to still make you healthy despite this pandemic. COVID-19 affected all aspects of our lives. From the workplace, finances, emotions, leisure, and even our fitness journey. Gyms were forced to be closed as a safety protocol in fighting the virus. That's why along with the virus, fitness problems also arise. 
Thanks to the VT-20A T-Zone Vibration Machine. You can still continue your exercise routines inside your homes. By standing on it or while doing various exercises, this machine produces vertical vibrations which simulate walking.
In this article we will discuss about: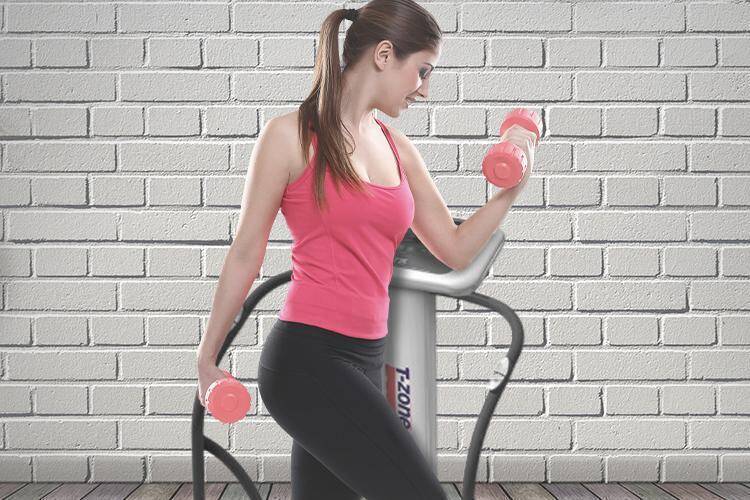 Best T-Zone Vibration Exercises
Try the VT-20A with these T-Zone Vibration Exercises. Here are some instructions of various exercises for you to follow:
Step Ups with the Magic Mat is simply stepping on the mat for your coordination and core.  Start by putting your one foot on the plate. Then, step up your other foot and step down the other. Just put your one foot on the plate alternately. It's better to be as fast as you can to test your strength and coordination. The faster, the better. Just keep breathing while doing the routine and stay your body upright.
The existing mat of this whole body vibration machine is replaceable. You can just replace it with these two kinds of magic mats. Thicker mats are for intensified cardio work-outs, while the thinner mats are for less intense exercises.  
To start with the Stutter Step, just slide off the existing mat and slide in your preferred magic mat. Once settled, step in on the magic mat. Set the speed from 13-19. Then, start doing the stutter step by getting your leg and knees on quickly. It's like running too fast on the magic mat. If you want a less intense workout, just stay on the mat while pressing your feet on the mat.
Do you know how to plank?
To start with, put yourself in a plank position. Put your forearms on the plate of the machine. Make sure to be in a straight plank position and hold it for a while. Then, switch into a push-up position. Put your palm down on the mat. Just switch from the plank and push up position quickly. Try to do this for at least 30 seconds or more. This exercise works on your core.
You can definitely do this at-home exercise. With the VT-20A machine, put your palms on the plate. Extend your legs out. Then, bring them in and jump. It's like out, in, and up routines. Do this as fast as you can to intensify your workout. This exercise also works well to stabilize your muscles.
It's like climbing a mountain. Put your palm on the plate. Extend your legs at the back, and tighten your core. Bring your one foot in, and put it back. Just put in your foot alternately while your palms are on the mat for vibration.
Maintain your core. Concentrate and just keep on breathing. It's better to move quickly for a longer period of time to serve its goal.
T-Zone Vibration as Cool Down
After doing all of these T-Zone Vibration Exercises, it's important to cool down. Cooling down if recovering your body from various exercises. It's at the end of the workout, a form of a static stretch. 
Before, cool downs were usually ignored and people usually skipped them. Now, there's already a modern way to do it. With the T-Zone Whole Body Vibration Machine, you can do slower vibrations for two minutes while doing some stretching workouts. You can also have a two-minute cool down while relaxing in a T-Zone Chair.
Benefits of incorporating T-Zone Vibration Machine in your exercise routine.
Say goodbye to your traditional exercise workouts, and say hello to your new fitness buddy, the T-Zone Vibration Machine. Doing our regular workouts with whole body vibration exercises is already proven to be the fastest way to achieve your fitness goals. Here are some of its benefits:
It helps you lose weight. 

It helps you reduce sitting time. 

It makes you look younger. 

It boosts immune system

It eliminates toxins. 

It makes you feel more energized. 

It is time-saving. Your 10-minute workout is equivalent to almost 1 hour of intense exercise. 

It also lessens stress on the joints, ligaments, and tendons
Overall, this machine performs well and gives you a better feeling. Your workouts will be easier and faster without compromising the result of your workout. You will be more consistent since you don't have to do rigid exercise to lose weight.
Despite the pandemic, your fitness journey should still continue. If you can't go to the gym, bring the equipment to your home. Then, you can just perform all your exercise routines with your new fitness buddy. 
Worry no more with this T-Zone Vibration Machine! Grab it now, and thank us later!